Leah Pires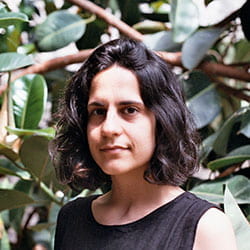 Education
PhD, Columbia University
Areas of Expertise
Modern and contemporary art; the politics of representation; gender, race, subjectivity, critique
Biography
Leah Pires is an art historian whose research and teaching focus on the politics of representation in modern and contemporary art. Her current book project, Finessing the Frame: Louise Lawler's Pictures, examines how the conceptual photographer Louise Lawler and her Pictures peers reimagined critique in the postmodern period in New York. Dr. Pires has published scholarship on politics and gender in art of the 1980s in Brand New: Art and Commodity in the 1980s (Hirshhorn Museum and Sculpture Garden, 2018) and Vikky Alexander: Extreme Beauty (Vancouver: Vancouver Art Gallery, 2019).
Alongside her art historical research, Dr. Pires has contributed essays to exhibition catalogues and monographs on the work of contemporary artists including Rochelle Goldberg, Lucy McKenzie, Virginia Overton, Carissa Rodriguez, and Johanna Tiedtke. Her writing on art and politics has appeared in Triple Canopy, 4 Columns, and Art in America. As a curator, she has organized several critically acclaimed exhibitions of contemporary art, including Finesse (Wallach Art Gallery, Columbia University, 2017).
Dr. Pires has presented her research at the Whitney Museum of American Art, Harvard's Carpenter Center for Visual Arts, and the Tate Liverpool. Her work has been supported by fellowships from the Pembroke Center for Research and Teaching on Women at Brown University, the Heyman Center for the Humanities at Columbia University, Humanities New York, and the Canada Council for the Arts. Before coming to Providence College, she taught art history and theory at Columbia University, Brown University, and Bennington College.
Dr. Pires holds a PhD in Art History from Columbia University and is a graduate of the Whitney Independent Study Program.
Courses Taught
Modern Art
Interpretive Methods in Art History
Survey of Art History (team-taught)
Visual Communication
Publications