Department of Art and Art History
News & Events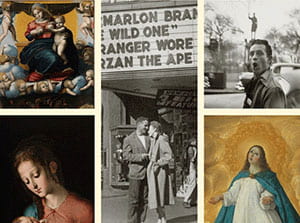 Art History Seniors Thesis Presentations: Monday December 9th, Guzman 250. Begins at 3:00 – 4:30.
Lily Conover "Mid 20th Century America Through the Words and Lens of Allen Ginsberg" and Nicole Jozwik "Seductive Sacrality: Questioning the Nature of Seduction through Golden Age Spanish Paintings of the Virgin Mary".
Why study Art and Art History at Providence College? Read all about it! The studio art program stresses a strong foundation in the fine arts, as well as the liberal arts, on which to build careers in the arts, communication, advertising, and related fields. The student is also prepared for graduate study leading to an M.F.A. in studio art or M.A.T. in art education. The program in art history emphasizes the historical, cultural, and formal contexts of art and visual culture, preparing students for graduate study as well as careers in museums, cultural advocacy, marketing, communication, and other fields.
Scholar Power: Dr. Bing Huang, assistant professor, art history
Read up on Bing Huang in the current issue of PC Magazine.
Quotable: "If you think about the art of our day, museums and galleries are important and the first thing that comes to mind, but I do not confine contemporary art to museums or other art institutions. I think our contemporary art involves gaming, movies, and social media, such as Instagram and Facebook. These are the biggest warehouses of images and should be considered the contemporary art of our age. Everyone can be an artist and self-made internet celebrity and create great content for our modern image consumption."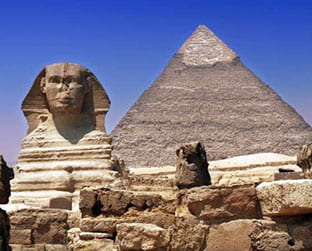 Dr. Strasser will be teaching ARH 370– From Abraham to Alexander: The Art of Archaeology of the Ancient Middle East this Spring 2020! Sign up, MWF 2:30-3:20!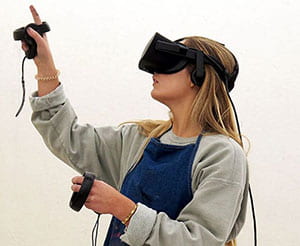 Asian Art through VR Games taught by Art History Dr. Bing Huang is a class that explores Asian heritage sites using virtual reality tools — no passport required!
The current issue of PC Magazine discusses the way Virtual reality is used as teaching tool.
Spring 2020 Special Topics: Ceramic and Painting ART 270 (CRN 1284)
T/R 1:30-4:20, 3 credits.
Co taught by Professors Judd Schiffman and Heather McPherson.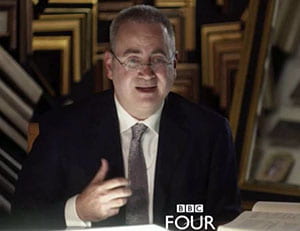 Art History Professor Paul Crenshaw was featured in BBC4 documentary "From riches to ruins, Looking for Rembrandt". This tells the story of a difficult but passionate man, whose life reads more like the biography of a rock n' roll star than famed artist of the 1600s. The documentary has three parts and aired: April 9, 16 and 23, and can be found online for viewing. BBC4 is the cultural programming network for BBC.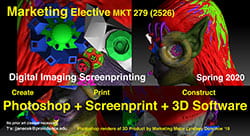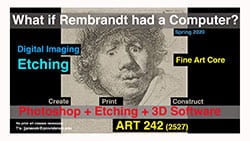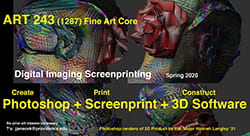 Spring 2020 classes to consider. These classes are taught by Studio Art Professor Jim Janecek :
Questions – jjanecek@providence.edu
Marketing Elective 279 (2526)Digital Imaging Screenprinting
Digital Imaging – Etching Art 242 (2527)
Digital Imaging Screenprinting – Art 243 (1282)