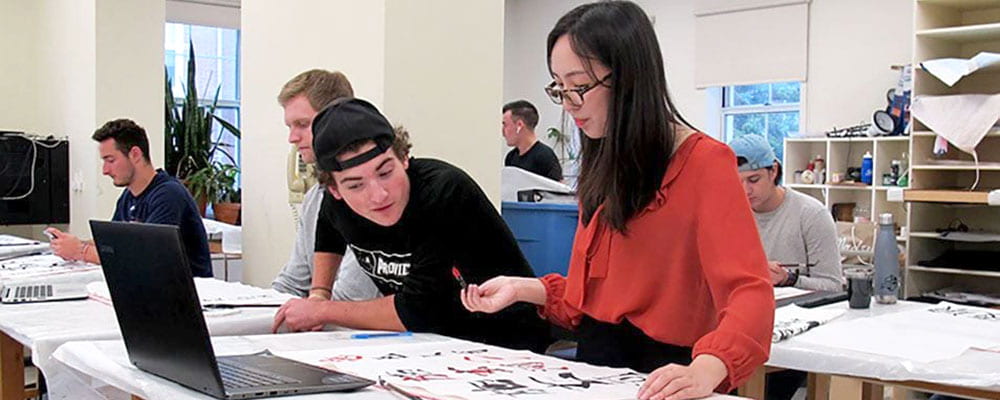 Site Home
>
Welcome to the Art and Art History Department
Welcome to the Art and Art History Department
Our curriculum has been planned to provide a thorough experience in Art and Art History within the context of a comprehensive liberal arts environment.
All of our students begin with a series of foundation courses that establish a visual literacy and point the way toward a specific medium or topic of interest. As this personal awareness develops, a studio concentration or art historical subject gradually becomes focused into a thesis in the senior year. The capstone of the Art and Art History curriculum, the thesis project becomes an exhibition in one of our galleries for Studio majors and a public presentation of their research thesis for Art History majors. As a final appreciation of our students' accomplishments, all thesis projects are published in the Department's own imprint, the Art Journal.
Our students' efforts are not limited to coursework. We have a thriving Art Club that hosts the campus-wide Student Art Show every fall, presents a Crafts Fair and shares in presenting an Art and Music Festival in the spring. As important as these activities are, the students in the Art Club have also, for three years, volunteered to establish an Art Club and teach studio art at San Miguel Academy in Providence, earning a Providence College Distinguished Service Award for their efforts.
We are an active and dedicated Department with many options in Art and Art History.
Current Student Workers
VRC:
Sara Conway'21 Art History and History majors; Research Assistant, Photographer
Jean Dale'21 Studio Art and Art History majors; Web Editor, Photographer
Nicole Jozwik'20 Art History major; Research Assistant, Photographer
Kali Magnusson'21 Studio Art major; Digital Lab Monitor, Photographer, Social Media Editor
Katherine Schaefer'21 Art History major: Research Assistant, DVD/Video Collection
Art Department:
Elizabeth Donnellan'20; Photography Lab Monitor
Payton Morse'20; Photography Lab Monitor