Artistic Souvenirs From Abroad
Jeannie Dale, PC 2021
Jeannie Dale '21, Studio Art and Art History double major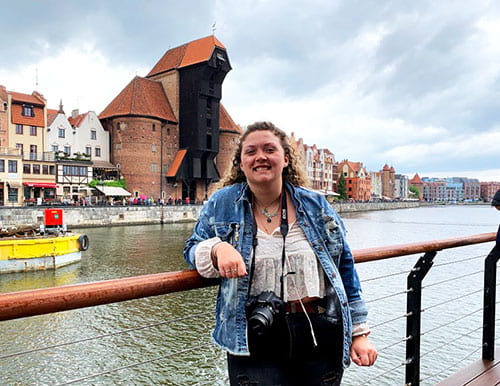 "During my Maymester abroad, we spent an intensive few weeks studying the Cold War from the perspective of Eastern Europe, while simultaneously studying photography. The two collided as we traveled through Germany, Poland, and Hungary, exploring the ways in which arts were used to express these events. It was incredible to see these historic sights, and go to the museums and memorials, in which one could see the ways artists conveyed what had happened to them and those around them during this time. Carrying a camera with us at all times, our focus was on viewing Eastern Europe through both a historic lens and the camera lens. By doing so, I was able to look more closely at things around me, and take them in in a deeper way than I ever have before!"
Jeannie studied through PC's Maymester 2019: The US & Cold War in Eastern Europe.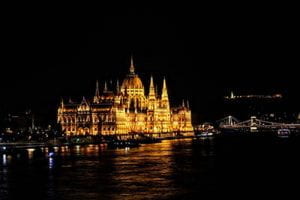 Sara Conway, PC 2021
Sara Conway'21, History major & Art History and Business Innovation double minor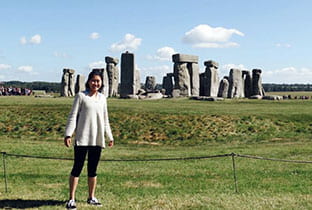 "Although my program was mostly focused on topics in English and History, I simultaneously came away with a greater understanding of the ancient and medieval era architecture of England. It was surreal to stand before the Stonehenge on one of the Advanced Studies in England (ASE) weekend excursions. I remember learning about Stonehenge's history and the theories surrounding the structure in AP Art History my senior year of high school, and then, suddenly, I was a few feet away from the actual Stonehenge. On the other hand, I had never heard of Castle Corfe before traveling to Dorset on another weekend trip. I was able to delve more into its history and architecture after walking through its crumbling—but still strong—walls in a presentation for my Medieval Art class. Studying abroad, even for a brief amount of time, has taught me to step beyond textbooks and computer screens and take the chance to experience the art that is only an airplane flight away".
Sara studied through the Advanced Studies in England program, located in Bath, England, during the summer of 2018. Pictured are a few highlights from her travels including Bath Abbey, Castle Corfe, Glastonbury Abbey (and its Lady Chapel), and Stonehenge.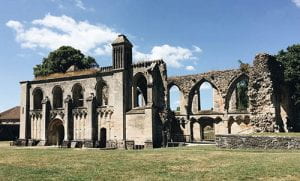 Nicole Jozwik, PC 2020
Nicole Jozwik, PC 2020, Art History Major & Spanish and Business Innovation double minor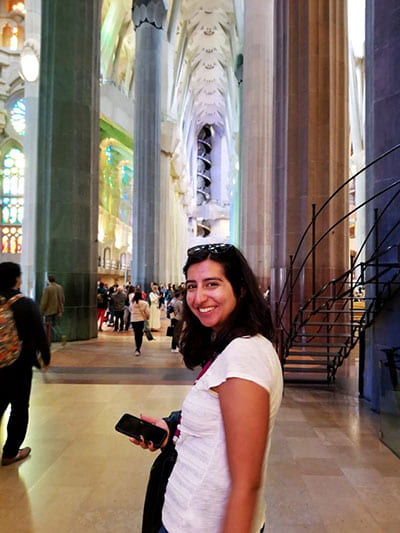 "I'd say it's hard to pick one defining artistic experience out of all my memories abroad, but that just shows how fulfilling my time in Spain was and how it contributed to my studies. As I study Andean-Christian syncretism, I spent most of my time hopping from city to city, church to church in order to observe the artistic features the Spanish brought with them to the sacred spaces of Peru. My travels took me to Madrid, Barcelona, Sevilla, Toledo, Segovia, Cordoba, Avila, and even Brussels and Paris. The best souvenir that I have now is, not only amazing friendships and memories, but a new grasp on my future specialty and a new love for Spanish- Catholic art". -Nicole
Nicole studied Art History and Spanish on the CIEE Liberal Arts Madrid Program. Pictured are a few highlights taken at the Sagrada Familia in Barcelona, Spain.