Rev. Richard A. McAlister O.P.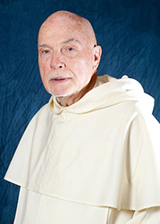 Professor Emeritus of Studio Art
Curator, Thomas McGlynn Collection
Education:
M.F.A. – Art Center College of Design (California)
Area(s) of Expertise:
Sculpture
Biographical Information:
Father McAlister, a founding member of the Department of Art & Art History, holds a Master of Fine Arts degree in Industrial Design from Art Center College of Design (California), a Bachelor of Fine Arts in Sculpture from Wayne State University (Detroit), a Bachelor of Sacred Theology from the College of The Immaculate Conception (Washington, DC) and a Bachelor of Arts in Philosophy from Providence College. Although his early years at Providence College included courses in drawing and art history, he primarily taught sculpture at the college. From 1970-91, he directed a Providence in Europe summer study art program based at the studio of Thomas McGlynn in Pietrasanta, Italy. A design consultant for church interiors, he also designs and prepares books for publication. He currently serves as the curator of The Thomas McGlynn Sculpture Collection housed in Hunt-Cavanagh Hall, as well as curator of the Providence College Art Collection.