Alice H. R. H. Beckwith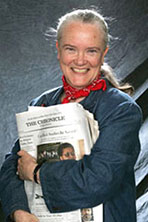 Professor Emerita of Art History
Education:
Ph.D. – Johns Hopkins University
Biographical Information:
A founding member of the Art History program, Dr. Beckwith's interests in Italian, French, British, and North American art and architectures of the fifteenth to the early twentieth century involve interdisciplinary studies of the visual arts and their cultural contexts. Dr. Beckwith holds a Ph.D. from Johns Hopkins University, an M.A. from Brown University, a B.A. from the University of Rochester and a Diploma di Proffito from the University of Florence. She taught the Renaissance, Baroque, Nineteenth Century, and occasionally the North American Architecture components of the art history curriculum at Providence College.