Eric Sung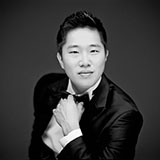 Associate Professor
Department of Art
Education:
M.F.A. – Indiana University
mastersung@providence.edu
401-865-2421
Room: Hunt-Cavanagh 216
Area(s) of Expertise:
Photography
Biographical Information:
Professor Sung received a Bachelor of Arts degree from Richard Stockton State College of New Jersey in 2000, and a Master of Fine Arts in Photography from Indiana University, Bloomington in 2004. He serves the Department of Art and Art History as Associate Professor of Photography, teaching courses in both traditional dark room techniques as well as digital photography. Professor Sung has exhibited his works in Alabama, at Texas Tech University, and in the Ping Yao International Photography Festival in Ping Yao, China. His current work is influenced by the ritual performance found in Taoism and Buddhism. Before joining the faculty of Providence College, Professor Sung served as Assistant Professor of Photography at Southeastern Louisiana University.
Courses Taught:
Photography I, II, III (Color Photograph), IV, V (The Camera View), VI
Independent Study I (Special Topics in Photography)
Photography Thesis