Heather McPherson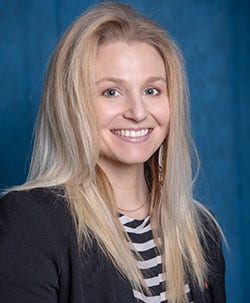 Associate Professor
Department of Art
Chair, Department of Art and Art History
Education:
M.F.A. – Rhode Island School of Design
hmcphers@providence.edu
401-865-2707
Room: Hunt-Cavanagh 200 and Service 101
Area(s) of Expertise:
Painting
Biographical Information:
Heather Leigh McPherson is a Providence-based artist working in painting, sculpture, and animation. Recent solo exhibitions include High Bottom at Actual Size Los Angeles, 30 Special Colors at Greenlease Gallery in Kansas City and Anytime Concept at Vox Populi in Philadelphia. Winner of the 2015 Rhode Island State Council on the Arts Merit Fellowship in Painting, McPherson holds a bachelor's degree from Washington University in St. Louis and a master's from Rhode Island School of Design.
McPherson's work combines strategies and visual languages from the realms of abstract painting and digital expression, revolving between colorful, process-based paintings on canvas, low-relief sculptures, and frenetic gif animations. In all of this work, McPherson explores the limits of identity and expression by weaving together a vast range of stylistic and psychological references.
Courses Taught:
Painting I – V
Painting Thesis
Senior Seminar in Studio Art
Paintography