James Janecek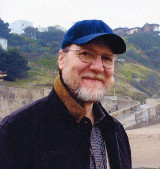 Associate Professor
Department of Art
Education:
M.F.A. – Stanford University
(on leave fall 2019)
JJANECEK@providence.edu
401-865-2162
Room: Hunt-Cavanagh 101
Area(s) of Expertise:
Digital Imaging, Printmaking, Monotype, Visual Design
Biographical Information:
Professor Janecek holds a Bachelor of Science Degree in Design from The Institute of Design, Illinois Institute of Technology, and a Master of Fine Arts from Stanford University. He teaches courses in the fields of Printmaking, Design, and Digital Imaging and has also taught innovative special topics courses such as Bauhaus Design and Nintendo Drawing. He has exhibited his works across the United States including shows in California, Chicago, Missouri, New Jersey, and Boston. He has also received two Davis Foundation grants for Drawing with Digital Media. For more information check out his website.
Courses Taught:
Digital Imaging: Etching
Digital Imaging: Screenprinting
Digital Imaging: Thesis
Monotype
Print Making I-VI
Printmaking: Relief Intaglio
Printmaking Thesis
Visual Design 1
Special Topics Courses Taught:
Bauhaus Interactive
Digital Imaging: Nintendo Drawing