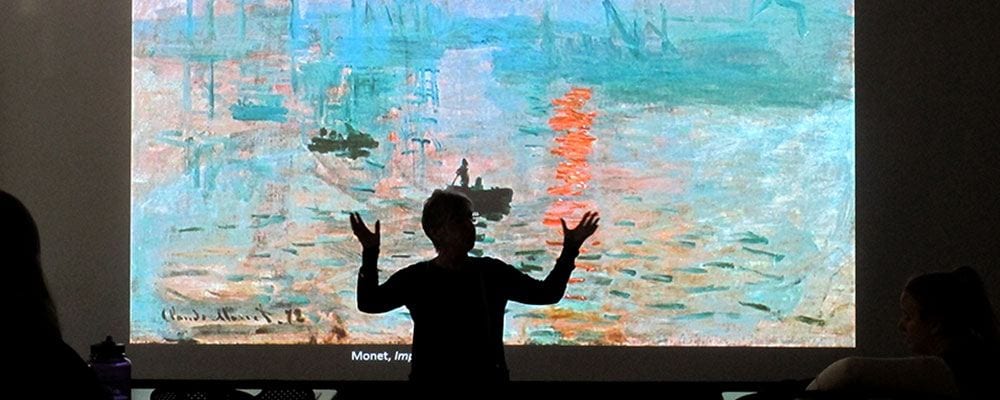 Internships and Opportunities
Students in the Department of Art and Art History take part in numerous internships and other fieldwork experiences. These positions are often held for one academic semester and provide students with real world experience in the areas related to their interests. In the past students have interned in curatorial and research roles, as well as in the area of art business and marketing. These opportunities not only provide students with professional experience, but also give them an education in what employers will expect of them after graduation.
Lynn Curtis M.F.A, Assistant Professor of Drawing and Assistant Chair of the Department, serves as Internship Coordinator and in that capacity provides students with resources on how to go about acquiring an internship and receiving academic credit for internship work (when possible).
Opportunities for Internships through the Providence College Art and Art History Department
Regional/National internship advising (see Professor Lynn Curtis)
Catherine Little Bert Gallery Internship (see Dr. Deborah Johnson)
Student Work Study Positions in our department (see Harriet Pappas)
Assistant to Jamilee Polson Lacy, Curator and Director, Providence College Galleries (see Ms. Jamilee Polson Lacy)
Gallery Director Shadow Experience. Providence Art Club (see Dr. Deborah Johnson)
Apply to these Current Internships & Research Opportunities
Providence College Uundergraduate Research Small Grant Program. With an appreciation and understanding of the impact of undergraduate research on student success, the Center for Engaged Learning, in collaboration with the Office of Academic Affairs and the College's Undergraduate Research Committee (PC?URC), is pleased to announce a competitive small grants program to support undergraduate scholarly research, creative and/or artistic work during the 2017-2018 academic year.
Two recent receipients:
Cecelia Lahiff '18, Humanities and Art History, "Brunelleschi and Ancient Rome: The Architecture of Santa Maria degli Angeli"
Josef Riccio '18, History and Art History,  "Early Presidential Iconography"
Traineeships-The Wordsworth Trust: Apply for a year-long, paid trainee assistantship position at the house museum for William Wordswoth, in Grasmere, England (in the beautiful Lake Country district). There are four positions, there's definately a visual art componet involved, and the deadline is November 6, 2017. Positions run January-December 2018. The Wordsworth Trust has been providing training opportunities for people starting careers in museums, libraries and literature for over 30 years.
RISD Nature Lab STEAM curriculum intern. The RISD Nature Lab is accepting junior and senior applicants for an internship involving the development and delivery of two curriculum modules geared towards grades K-12, that make use of the lab's collections and imaging systems to promote learning in science, technology, engineering and math through an arts approach. See more information on arts internships in Providence and Boston.
Providence ¡CityArts! for Youth's has the following Summer Positions: Turnaround Teaching Artist,  Minimum Time Americorps Teaching Artist, Summer Program Assistant and CityArts Americorps Vista. Our work is inspired by the creative process of art-making and the exploration of ideas and concepts that shape our communities and everyday lives.  ¡CityArts! fosters creative thinking and expression, promotes positive social development, engages youth in public service and community, and provides sources of hope and inspiration—particularly for those youth who have little or no opportunity for consistent and affordable access to quality out-of-school time programs and are limited in their exposure beyond their own neighborhoods. At ¡CityArts!, youth are encouraged to express, create, and grow!
Providence Children's Museum Community Outreach Intern. Providence Children's Museum is looking for a summer intern to act as the primary point of contact and facilitation for Play in the Park programming.
Brown Post-Baccalaureate Curatorial Fellow at Smith College Museum of Art. Smith College is accepting applications for a Brown Post-Baccalaureate Curatorial Fellow.  Reporting to the Curator of Prints, Drawings, and Photographs the Curatorial Fellow will provide administrative support for the broad range of programs and activities undertaken by the Smith College Museum of Art Curatorial Department, including assisting in specific exhibition projects and the management, research, access, and record-keeping on works of art in the four curatorial divisions; Prints, Drawings, and Photographs; Painting and Sculpture; Asian Art; and Contemporary Art. This is a 1 year, limited-term, possibility of renewal.
The Isabella Stewart Gardner Museum in Boston posts positions frequently and the deadline for applications for summer internships in usually in April. Some are paid positions and some unpaid.
The Art Institute of Chicago Museum Education Summer Internship, open to seniors or graduated seniors interested in museum work.
Guggenheim Museum's Learning Through Art (LTA) is offering volunteer opportunities through the LTA residency program. Any recent PC graduates who might be interested in arts education are welcome to apply. Contact Molly O'Brien, 09′ Art History major, with any questions.
St. Peter School in Warwick, RI seeks an interns to teach art classes to grades K-8 one afternoon a week. Unpaid. Contact Lynn Curtis for more information.
The DeCordova Sculpture Park and Museum, Lincoln, MA, offers internships (and job opportunities!) in the following areas: Curatorial; Interpretation; Family and Youth Programs. Deadlines: rolling Gallery Installation, Administrative/Marketing and Art Education
Warwick Museum of Art offers an internship in the following area: Administrative Gallery Intern Job Description.pdf
Gallery Installation, Administrative/Marketing and Art Education, Time Commitment: 10 -20 hours per week during business hours and/or Saturday. We offer flexible schedules to coincide with students class and work schedules. Reports to: Gallery Intern is supervised by and reports to the Director. Contact Taylor Terreri (Office Manager) – Deadline ASAP
Student Work Opportunities in our Department
Students are welcome to apply for work study positions within our Department. They may work as Lab Technicians in the Visual Resource Center where they can gain real world experience working on our web page, photographing images for the department, managing our social media accounts, cataloguing images of artwork or aiding Art History professors in their research and writing projects. They may also work as an aid to Studio Art professors in photography, ceramics, digital Imaging, printmaking, sculpture and drawing/painting. These positions give students the opportunity to work closely with their professors and to take an active part in the research being undertaken by the faculty of Providence College. Students also gain professional experience in these paid positions.
For more information please contact Harriet Pappas, Visual Resource Curator, hpappas@providence.edu
Follow the links below for more information on Fieldwork, Internship & Career Opportunities and Graduate School
Connect with Alumni of the Department through the Providence College Studio Art & Art History Alumni LinkedIn!
Graduate School
Information on MFA Programs and funding
7 Critical Steps to Find the Right Graduate School, April 6, 2012
Ask 5 Questions Before Borrowing Money for Graduate School, March 12, 2014
To help figure out how different programs could impact your earnings, check out this site, which details the jobs and salaries of recent graduates from programs you're considering. If their income isn't higher than what you could otherwise earn, borrowing more money may not make sense.
Grad Degree Potential Salary Estimator , October 23, 2013
On the Art of Selecting a Graduate Program by Benjamin Sawyer, October 16, 2012
Grad Program:  Princeton Review, Studio Arts (M.F.A.)
10 of the Most Influential MFA Programs in the World by Artspace Editors, April 24, 2014
Back to School Guide: The 10 MFA Programs That Give You the Most Bang For Your Buck by Alana Martinez, Huffington Post., October 23, 2012
Museum and Museum-type Careers for Art Historians and Studio Artists with Art History Background
Museum Work:
Director
Curator and Assistant Curator
Curatorial Assistant
Registrar
Grant specialist
Visual resource curator/archivist
Exhibition designer
Installation specialist/preparator
Director of Education
Museum educator
Public relations/development/fund-raising (including web design and maintenance)
Rights and reproductions specialist
Conservation (restoration and preservation) of art objects (can require advanced degree in art conservation)
Retail specialist
Galleries, Academic and Commercial:
Curator for university/college gallery
Gallery Director for nonprofit organization
Commercial gallery owner or art dealer
Auction house associate
Corporate or private art collection curator
Artist's agent
Antiquarian book, print, or art dealer
Art appraiser
Estate appraiser
Arts Administration and Management (can require degree in business or arts administration)
Nonprofit or community-based arts organization administrator
Government-funded arts organization administrator
Museum and Museum-type Careers Organized by Minimum Degree or Training Required
Minimum Bachelor's Degree in Art History or Studio Art with a minor in Art History, plus appropriate internships and/or portfolio:
Researcher/curatorial assistant
Exhibition designer/installation specialist/preparator
Apprentice in conservation department (requires basic chemistry and physics courses)
Assistant registrar
Public relations/development/fund-raising (including web design and maintenance)
Rights and reproductions specialist
Retail specialist
Entry-level positions in auction houses
Art/antiques dealer
Commercial gallery owner or assistant
Artist's agent
Visual resource curator/archivist
Corporate or private art consultant/curator
Minimum MA in Art History:
Museum registrar
Museum educator
Arts Administrator
Museum curator
Director of university/college gallery
Curator of university/college gallery
Gallery director for nonprofit organization
Museum educator
Upper-level position in auction house
PhD in Art History Desirable/Necessary
Museum director
Museum director of education
Chief or high level museum curator
High-level arts administrator