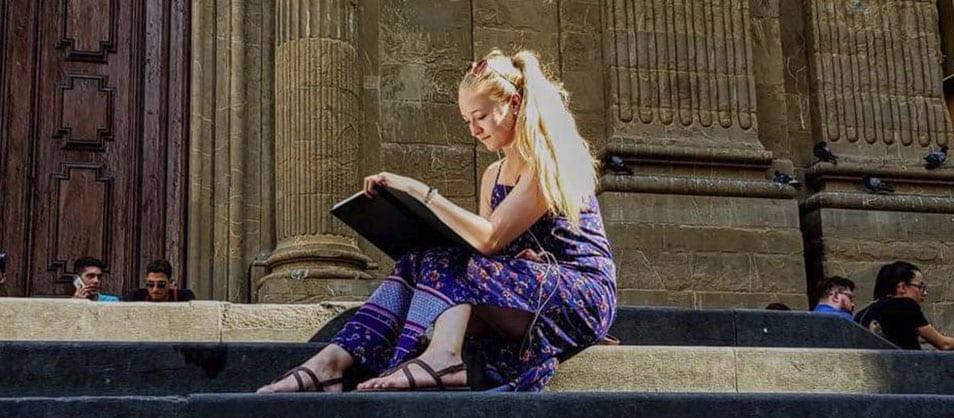 Internships and Research Opportunities
 Student Work Opportunities in our Department
Harriet Pappas, Visual Resource Curator.
Jamilee Lacy, Curator and Director, Providence College Galleries.
Lynn Curtis , Assistant Professor of Drawing, serves as Internship Coordinator.
Connect with Alumni of the Department through the Providence College Studio Art & Art History Alumni LinkedIn!
Current Internships & Research Opportunities
Local Opportunities:
Providence College Undergraduate Research Small Grant Program.  Deadline February 3, 2019.
Benjamin Family Social Media Fellowship Providence College. Deadline February 2019.
Gallery Director Shadow Experience through Providence Art Club see Dr. Deborah Johnson.
Providence ¡CityArts! for Youth, Providence, RI. Information on ¡CityArts! and the Community Lens course, contact Professor Eric Sung.
RISD Nature Lab STEAM intern Providence, RI . Application open, December, 2018.
RISD Museum Internships and Opportunities Providence, RI. Applications open December, 2018.
Providence Children's Museum,Providence, RI.
Warwick Museum of Art, Warwick, RI
St. Peter School in Warwick, RI. Contact Professor Lynn Curtis for information.
Regional Opportunities:
Brown Post-Baccalaureate Curatorial Fellow at Smith College Museum of Art. Smith College, Northampton, Ma.
The Isabella Stewart Gardner Museum, Boston, Ma.
Guggenheim Museum's Learning Through Art (LTA), New York, NY.  Contact Molly O'Brien, 09′ Art History major, with any questions.
Solomon R. Guggenheim Museum Summer 2019 Internship Program, New York, NY. Deadline is January 30th (postmark).
The DeCordova Sculpture Park and Museum, Lincoln, MA. Deadline December 2, 2018 or Spring 2019 Internship.
The Art Institute of Chicago Museum Education Summer Internship, Chicago, Il.
Collections Department at Battleship Cove, Fall River, MA. For more information, please see http://battleshipcove.org/education/ or contact Elizabeth York, Director of Collections, at eyork@battleshipcove.org. To apply, please send a letter of interest and resume to eyork@battleshipcove.org.
International Opportunities:

Traineeships: The Wordsworth Trust:  in Grasmere, England. Deadline is Monday, November 5, 2018
Fieldwork, Internship & Career Opportunities