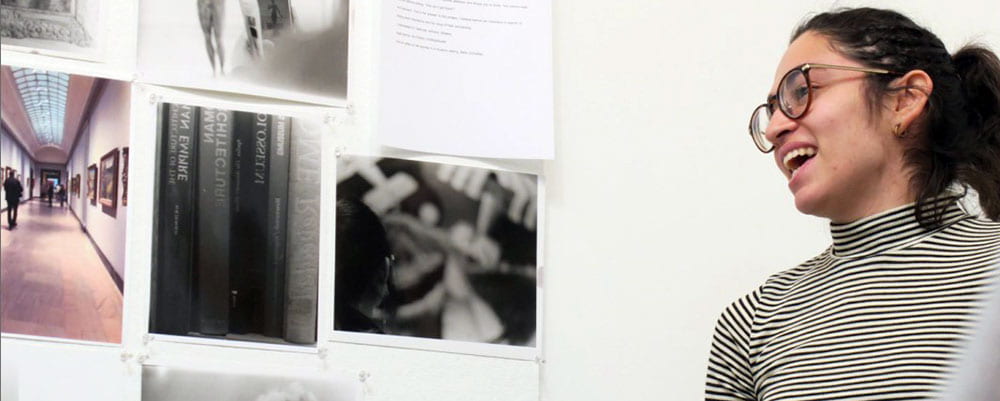 Photography
The philosophy of the photography concentration is experiential with a great deal of time spent with hands-on image making. Students who have completed the photo concentration will be introduced all areas of photography including digital photographic imaging workflow as well as darkroom practice.
The Department also offers a Minor in Studio Art, where one can take 9 credits in Photography
Courses entail creative projects which will support students' imaginative limits as well as courses with a more technical or commercial bent. Throughout their three years of photography, students will be encouraged to develop visual literacy skills, and will be supported to further develop their own original ideas in advanced classes. All photo classes involve group and individual critiques which encourage students to talk about their work and in turn build visual and verbal art vocabularies. Class critiques are also important for interaction between students, here they are able to give and receive peer input.
Through their college art experience all studio students become involved with the annual faculty critique, students show their work to the entire faculty for a give and take discussion of their work and their progress. During the second semester of their senior year photo majors will enroll in the Photo Thesis, ART 497, where they work toward their senior solo exhibition. This becomes the capstone for their photography and art experiences. Also in their senior year students work with advisor to further develop and complete their portfolios for future use beyond graduation.
The Photography studio complex is housed in Hunt-Cavanagh Hall and contains a Shooting studio, digital darkroom with the latest IMacs, large format printers, workroom, lecture room, and traditional darkroom for black and white film works. The photography studios are open to all students currently enrolled in photography classes during open lab hours. These hours are usually placed during the evening and weekends to minimize schedule conflict with other courses.
Graduates with a concentration in photography, or students who have taken courses which mirror the concentration, are working in such diverse fields such as: Graduate School and professional fields including commercial photography, photo journalism/documentary, Fine arts, teaching, publishing, graphic design, the business world and currently the Peace Corps. Some of the graduate programs where our recently grads were admitted to include: Parsons the New School in New York, Syracuse University, Lesley University, and Tufts University.
A typical photography concentration requires a minimum of 18 credit hours in photography. In addition to the photo concentration students will be taking an additional 36 credits hours in other art areas, of which 15 credit hours will be the art foundation, 12 credit hours will be in Art History, and the remainder studio electives, one of which must be in a 3D medium.
Minor in Studio Art (Photography)
Students who may be interested in photography but may not wish to be a studio major can explore photography in the context of a Studio Minor. The minor consists of 21 credit hours of study of which 9 credit hours will be in photography.